ON1 PHOTO 10 : PERFECT WEAPON FOR PHOTO EDITING
ON1 has recently launched their new photo editing software called ON1 Photo 10, which is another remarkable software from ON1. Earlier, there Perfect Photo Suite software was very awesome and this time they have added more features to it and developed ON1 Photo 10. In this article, I am going to review Photo 10 and will guide you through its features.
KEY FEATURES OF ON1 PHOTO 10
HUNDREDS OF AWESOME PRESETS.
SUPPORT FOR DIFFERENT FILE FORMAT.
EASILY CAN BE INTEGRATED TO ADOBE PHOTOSHOP, LIGHTROOM, APPLE APERTURE, ETC.
EASY NOISE REDUCTION
BATCH PROCESS MULTIPLE FILES FROM LIGHTROOM OR APERTURE WITH EXPORT.
AUTOMATICALLY DETECT FACES, WORK WITH MULTIPLE FACES AT ONCE.
NUMBER OF STACKABLE, ADJUSTABLE FILTERS INCLUDING ADJUSTABLE GRADIENT, ANTIQUE, COLOR ENHANCER, BORDERS, HDR LOOK, ETC.
INCLUDES HUNDREDS OF AWESOME PRESETS TO GET YOU STARTED IN MANY GENRES.
EXPORT SINGLE PHOTOS, MULTIPLE PHOTOS, EVEN WHOLE FOLDERS.
SHARE TO FACEBOOK, TWITTER, FLICKR, LINKEDIN, ETC. (MAC OSX ONLY).
MANY TOOLS LIKE PERFECT ERASER, QUICK MASK, PERFECT BRUSH, CLONE STAMP, FIX FOCUS, RED EYE TOOL, SKIN RETOUCHING, COLOR CORRECTION, ETC.
Above are some of the features of ON1 Photo 10 and it has more lots feature to explore to get awesome processing results of your images.
Photo editing is a lot more easier in ON1 Photo 10 and if you are using Adobe® Photoshop® or Lightroom®, you can use this software as a plug-in in them. Don't think this is only a plugin as it can be easily used as a standalone photo editing software.
See below video to know what is new in ON1 Photo 10.
As you must have seen above, that this is the same software perfect photo suite, but with new features and a new name, i.e Photo 10. This version is very versatile and you can browse images easily with this software whether they are on local drives or cloud services like Dropbox, One Drive, Google Drive.
ON1 Photo 10 has non-destructive Smart Photo technology with different tools to make your photo-editing easy. Tools like Perfect Eraser, Perfect Brush, Quick Mask, Clone stamp, noise reduction, fix focus, red eye tool, skin retouching, color correction, etc. makes your pictures more appealing.
There are many effects in ON1 which includes, presets, borders, filters and textures. You can apply them and see the live before saving your results. You can also save your custom presets and can use afterwards.
There are hundreds of presets and 23 stackable filters. See below few variations in cinematic preset.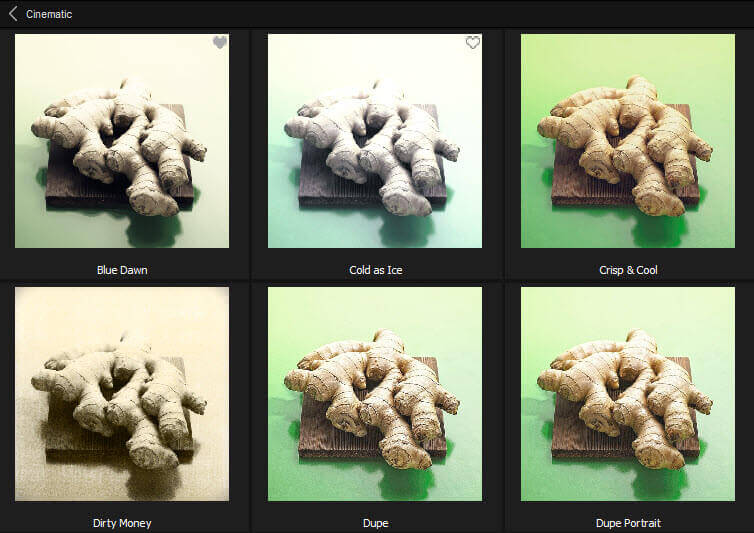 Different modules like Browse, Effects, Layers, etc. are now in right side instead of top and now in On1 Photo 10, you will also not see separate module for black and white as it has been merged with Perfect Effects.
Searching images have also become very easy in this new software, and just by typing it gives you real time results.
Major change also has been done on Effects. Now you can see all the presets in one place and easily install, delete, edit any default or new preset. Which is a great move by ON1. There are also some new preset categories like sports, architecture and weeding.
Portrait module is also modified and now you will have to select the eyes and mouth points before starting and they can also be skipped, which gives better control and editing.
Resize module is now part of export and also scattered to different modules like you can resize with the crop. For batch resize, you can select all the photos and export them and then select setting as required.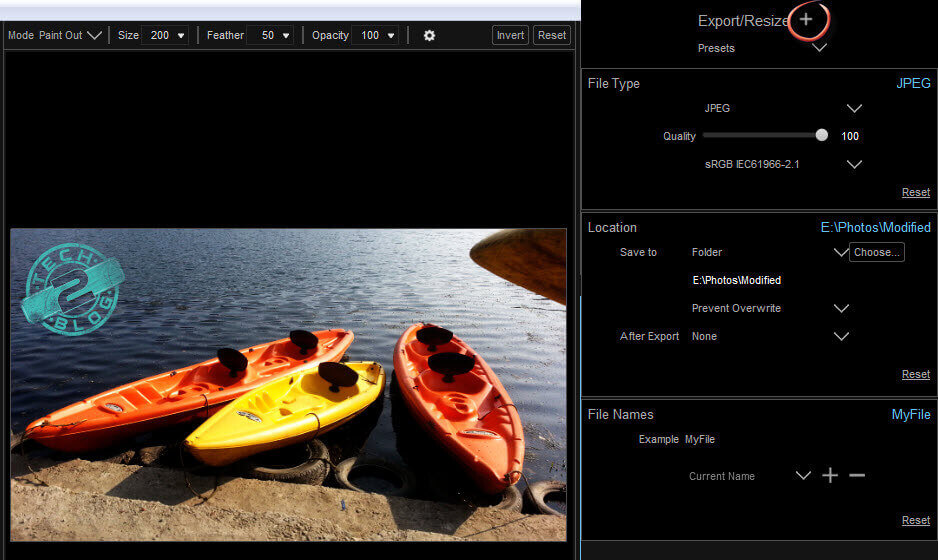 This new ON1 photo 10 has seen very major changes, and if you are user of Perfect photo suite 9, I will recommend you to upgrade it.
ON1 PHOTO 10: SUPPORT AND TUTORIALS
On1 has always helped its user by proving good support and tutorials to use this software. Even if you are newbie and have a passion for learning photo editing, ON1 tutorial section can help you.
There are many free to browse tutorial and you can learn how to use this software easily and also many pro tips and tutorials from experts like converting wedding photos to black and white, creating the Tilt–shift or miniature look, HDR Workflow Tricks, Blending Exposures and Adding Warmth, etc.
PRICE OF ON1 PHOTO 10
The price of ON1 Photo 10 is $109.99 but you can always get a discount on this price.
If you are not a new user of this awesome software you can also upgrade to this latest version from your previous perfect photo suite for only $79.99 though there is not a big difference on price on new purchases and upgrade.